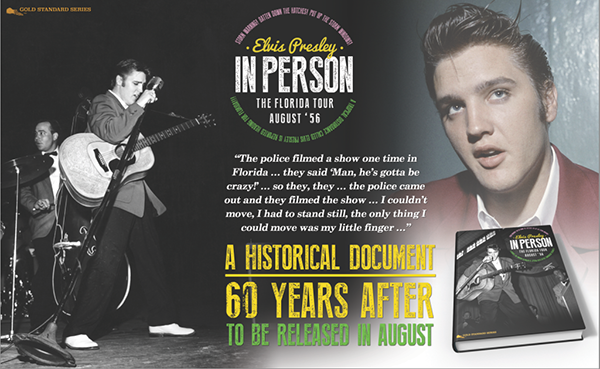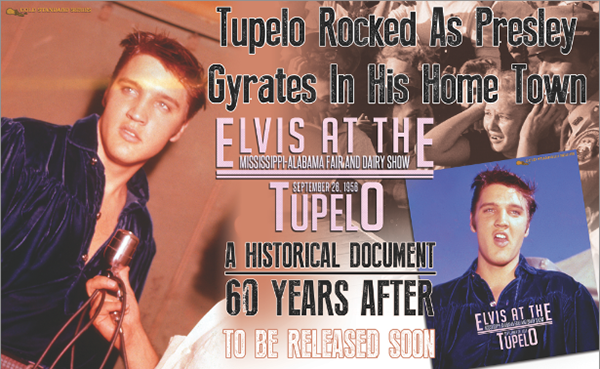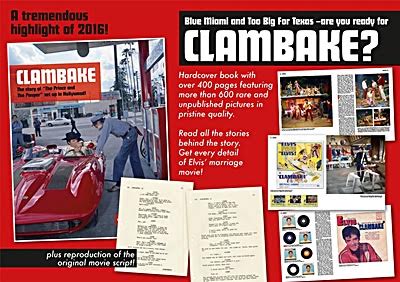 This new release will give you an inside look upon the making of Elvis' 25th movie Clambake. This book with over 400 pages contains more than 600 pictures. Most of them never published before and in fantastic colors. Get a glimpse behind the scenes through well researched information about the movie and the actors, anecdotes from the set, the movie's recording sessions, the Clambake discography plus a large selection of memorabilia from around the world. In addition to that the book contains a reproduction of the original movie script.
To celebrate the 60th ANNVERSARY YEAR of Elvis' first appearance on national television, Boxcar Enterprises will release a LIMITED EDITION 400-page hard cover book (with slipcase), a comprehensive illustration of Elvis Presley's early television appearances titled 'Elvis on Television (1956-1960).
From his first national introduction on the Dorsey Brothers 'Stage Show' in January 1956, through his appearances on other TV shows hosted by famous celebrities such as Milton Berle, Steve Allen and Ed Sullivan (including the infamous 'from the waist up' show in January 1957), this book goes well behind the scenes of each show documenting his arrival, the rehearsals and the shows themselves, all the way through to Elvis' post-army appearance on The Frank Sinatra-Timex Show in May 1960. It was to be his last television appearance for eight years.
Supported by a fully comprehensive text, (by Gordon Minto) collected here are scores of historical documents, memorabilia and hundreds of rare photographs - many of which have never before been published. This book will captivate the reader throughout, and is the most detailed document on the history of Elvis on Television from 1956-60.
Libiri publishing will release a book on Elvis on July 1st. Author Zoey Goto wrote Elvis Style: From Zoot Suits To Jumpsuits. This is what the publisher has to say about the book:
Elvis Style is a celebration of the aesthetic world of Elvis Presley. As one of the most significant pop icons of the 20th century, Elvis' impact on the music world has been widely discussed and analyzed. Surprisingly, however, his influence on design and fashion remains largely overlooked. Elvis Style investigates why Elvis was, and continues to be, an icon of style, focusing on his wonderfully expressive hairstyles, clothes, cars, and interiors. Elvis Style offers the reader an intriguing and insightful journey though the crazy, cool and at times kitsch world of a true megastar. Contemporary design experts have been interviewed to offer fresh insights into Elvis' style choices. These include Sex and the City stylist Patricia Fields, costume designer Deborah Nadoolman Landis (Michael Jackson's Thriller) Oscar winning costume designer Mark Bridges (The Artist), the British celebrity hairdresser Trevor Sorbie, Andy Lecompte (Madonna's hairstylist), Savile Row tailor Edward Sexton, Andy Spade (Jack Spade and Kate Spade brands) academics from the University of Mississippi, the Victoria & Albert Museum, George Barris (creator of the Bat-mobile and Elvis' personal car-customizer) and Hal Lansky of Lansky Brothers (Elvis' favorite tailoring house) who has also provided the foreword for Elvis Style. Elvis Style includes around 150 photos, many of which are full color and show rarely seen before Elvis-worn garments, interiors and cars from Elvis' extensive private collection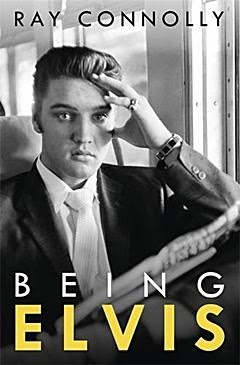 The publicity notes that this is "The definitive, intimate, no-holds-barred biography of the King of Rock 'n' Roll." by author & UK journalist Ray Connolly.
What was it like to be Elvis Presley? What did it feel like when impossible fame made him its prisoner?
As the world's first rock star there was no one to tell him what to expect, no one with whom he could share the burden of being himself - of being Elvis. On the outside he was all charm, sex appeal, outrageously confident on stage and stunningly gifted in the recording studio. To his fans he seemed to have it all. He was Elvis. With his voice and style influencing succeeding generations of musicians, he should have been free to sing any song he liked, to star in any film he was offered, and to tour in any country he chose.
But he wasn't free. The circumstances of his poor beginnings in the American South, which, as he blended gospel music with black rhythm and blues and white country songs, helped him create rock and roll, had left him with a lifelong vulnerability. Made rich and famous beyond his wildest imaginings when he mortgaged his talent to the machinations of his manager, 'Colonel' Tom Parker, there would be an inevitable price to pay. Though he daydreamed of becoming a serious film actor, instead he grew to despise his own movies and many of the songs he had to sing in them. He could have rebelled. But he didn't. Why?
In the Seventies, as the hits rolled in again, and millions of fans saw him in a second career as he sang his way across America, he talked of wanting to tour the world. But he never did. What was stopping him?
'Being Elvis' takes a clear-eyed look at the most-loved entertainer ever, and finds an unusual boy with a dazzling talent who grew up to change popular culture; a man who sold a billion records and had more hits than any other singer, but who became trapped by his own frailties in the loneliness of fame.
Hardcover: 368 pages - Out November 2016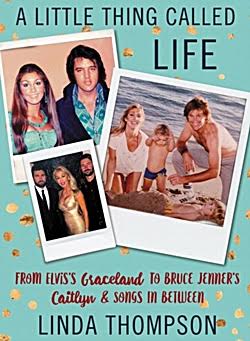 New Linda Thompson book: Linda Thompson finally breaks her silence, sharing the extraordinary story of her life, career, and epic romances with two of the most celebrated, modern American superstars, Elvis Presley and Bruce Jenner.
For the last forty years, award-winning songwriter Linda Thompson has quietly led one of the most remarkable lives in show business. The longtime live-in love of Elvis Presley, Linda first emerged into the limelight during the 1970s when the former beauty pageant queen caught the eye of the King. Their chance late-night encounter at a movie theater was the stuff of legend, and it marked the beginning of a whirlwind that would stretch across decades, leading to a marriage with Bruce Jenner, motherhood, and more drama than she ever could have imagined.

- Now for the first time, Linda opens up about it all, telling the full story of her life, loves, and everything in between. From her humble beginnings in Memphis to her nearly five year relationship with Elvis, she offers an intimate window into their life together, describing how their Southern roots fueled and sustained Graceland's greatest romance. Going inside their wild stories and tender moments, she paints a portrait of life with the King, as raucous as it is refreshing. But despite the joy they shared, life with Elvis also had darkness, and her account also presents an unsparing look at Elvis's twin demons - drug abuse and infidelity- forces he battled throughout their time together that would eventually end their relationship just eight months before his untimely death. 'We're all human and fallible' explains Linda
- It was in the difficult aftermath of Elvis's death that Linda found what she believed was her true home: the arms of Olympic gold medal-winner Bruce Jenner. Detailing her marriage to Bruce, Linda reveals the apparently perfect life that they built with their two young sons - Brandon and Brody - before Bruce changed everything with a secret he'd been carrying his entire life, a secret that Linda herself kept for nearly thirty years, a secret that Bruce's transition to Caitlyn Jenner has finally laid bare for the world. Providing a candid look inside one of the most challenging moments of her life, Linda uncovers the struggles she went through as a woman and a mother, coming to terms with the reality of Bruce's identity and resolving to embrace him completely no matter what, even as it meant they could no longer be together,

- And yet, despite her marriage unraveling, her search for love was not over, eventually leading her to the legendary music producer and musician David Foster, a relationship that lasted for 19 tumultuous years, resulting in a bond that spurred her songwriting career to new heights but also tested her like never before. Filled with compelling and poignant stories and 16 pages of photographs, A Little Thing Called Life lovingly recounts Linda's incredible journey through the years, bringing unparalleled insight into three legendary figures.

Out on August 23rd
The cover of the previously announced Taking Care Of Business - In A Flash, a book by FTD/ Flaming Star written by David English, Pal Granlund and Paul Richardson, has slightly changed. This seems to be the final look.
Update May 31:
The CD will contain 3 unreleased alternative takes from TTWII recordings, 2 mono singles for first time on CD and the Portland show (11/11, remastered audience recording).
FTD will issue the first part of 'Elvis: His Songs of Praise' by Trevor Simpson. It focuses on Elvis' gospel songs, and has up to 350 pages, with lots of quality pictures and many unseen photos. In the book, every gospel song is thoroughly investigated and described with detail information. As a bonus, the reader gets a CD with a compilation of gospel songs of Elvis.
CD:
01. Introduction by Elvis and Amazing Grace (Take 2 - Undubbed) - 3:39
02. America The Beautiful (Composite) - 2:11
03. Amen (Live in Memphis March 20th 1974) - 0:55
04. An American Trilogy (Live in Honolulu, Hawaii January 14th 1973) - 4:28
05. An Evening Prayer (Take Eight) - 2:00
06. Bridge Over Troubled Water (Unedited/ Undubbed master - 1970) - 4:35
07. He Touched Me (Take 1) - 2:46
08. Help Me (Undubbed master) - 2:29
09. I Believe (March Of Dimes Master edit) - 2:31
10. If That Isn't Love (Undubbed Take 4) - 3:34
11. If We Never Meet Again (Take 1) - 2:00
12. Elvis talks about Spiritual music & Joshua Fit The Battle (Take 4) - 3:11
13. In My Father's House (Take Eight) - 2:05
14. Known Only To Him (Take 2) - 1:35
15. Elvis talks & I'm Gonna Walk Dem Golden Stairs (Take 4) - 2:19
16. Miracle Of The Rosary (Undubbed Take 4) - 1:50 ELVIS PRESLEY SPECIAL: PALM SUNDAY - March 19th 1967 Radio Program
17. Introduction Radio Station KVIO - Sedona, AZ - 0:43
18. Announcer: How Great Thou Art - 2:57
19. In The Garden - 3:06
20. Announcer: Somebody Bigger Than You And I - 2:54
21. Stand By Me - 2:24
22. Announcer: Without Him - 3:01
23. Where Could I Go But To The Lord - 3:31
24. Announcer & Red Cross Message - 1:23
25. Announcer: Where No One Stands Alone - 3:07
26. Announcer: Crying In The Chapel - 2:36
27. Announcer & KVIO: Farewell & advert for How Great Thou Art album - 1:33
This September FTD release will bring the shows from the Mid-South Coliseum, Memphis, Tennessee on March 17,1974 (evening show) and June 10, 1975 (afternoon show). This release is another in the 5" 2-CD digipack range. Mastered by Jan Eliasson (Disc 1) and Vic Anesini (Disc 2)
Tracklisting
Disc 1
01 Also Sprach Zarathustra (Theme From 2001: A Space Odyssey)
02 See SeeRider
03 I Got A Woman/Amen
04 Love Me
05 Trying To Get To You
06 All Shook Up
07 Steamroller Blues
08 Teddy Bear/ Don't Be Cruel
09 Love Me Tender
10 Johnny B. Goode
11 Hound Dog
12 Fever
13 Polk Salad Annie
14 Why Me Lord
15 Suspicious Minds
16. Introductions
17 I Can't Stop Loving You
18 Help Me
19 An American Trilogy
20. Let Me Be There
21. Funny How Time Slips Away
22 That's All Right
23. Can't Help Falling In Love
25. Closing Vamp

Recorded live March 17, 1974 at Mid-South Coliseum, Memphis, Tennessee March 17, 1974 (evening show)
Musicians:
Guitars: James Burton, John Wilkinson;
Guitar and Vocals: Charlie Hodge;
Bass: Duke Bardwell;
Drums: Ronnie Tutt;
Piano: Glen D. Hardin;
Vocals: The Sweet Inspirations, J. D. Sumner & The Stamps, Kathy Westmoreland, Voice.
Joe Guercio and his Orchestra.

Disc 2
01 Also Sprach Zarathustra
02 SeeSee Rider
03 I Got A Woman/Amen
04 Love Me
05 If You Love Me (Let Me Know)
06 Love Me Tender
07 All Shook Up
08 (Let Me Be Your) Teddy Bear/Don't Be Cruel
09 Hound Dog
10 Fairytale
11 Burning Love
12 Introductions/Johnny B. Goode
13 Introductions/School Day
14 T-R-O-U-B-L-E
15 Why Me Lord
16 How Great Thou Art
17 Let Me Be There
18 Funny How Time Slips Away
19 Little Darlin'
20 An American Trilogy
21 Mystery Train/Tiger Man
22 Can't Help Falling In Love
Recorded live at Mid-South Coliseum, Memphis, Tennessee, June 10.
Tracks 20-22 recorded live at State Fair Coliseum, Jackson, Mississippi, June 6, 1975
CMT is proud to present their latest release which promises to be a winner! The STAR team has done all the edits on this album, and they made magic once more! Unlike other "import" labels, they truly were able to produce a great "new album , using many incomplete takes , to create beautiful new tracks. Their professional edits will blow you away, and will make you believe these are unreleased takes. Some new "alternate masters" were made and the result is amazing; just listen to the breathtaking version of "Steppin' Out of Line" or the new "bluesy" opening of "Slowly But Surely". Elvis fans have been spoiled over the years, and they all know.. "the end is near" almost every complete take available has been released, so this is as close as you can get for a "New" album, an album which won't leave your player this summer! The set comes in a "Deluxe Digipack" with beautiful artwork, and is strictly limited to 500 copies!
Tracklisting:
Blue Hawaii - Spliced take 4,6,3 Almost Always True - Spliced take 6,5 Didja Ever - spliced take 1,2 * Pocketful of Rainbows - Spliced take 19,20 Steppin Out of Line - Alternate Master Slowly But Surely - Spliced take 3,4,1 (bluesy intro) If You Think I Dont Need You - Spliced take 5,7 What a wonderful Life - Spliced take 5,6 Tonights So Right For Love - Spliced take 5,6 We'll Be Together - Spliced take 8,10 One Broken Heart for Sale - Spliced take 3,5 The Bullfighter Was A Lady - Spliced take 9,7 * Ku u I po - Spliced take 2,5 Animal Instinct - Spliced take 3,4 A Dogs Life - Spliced take 5,4 C'mon Everybody - - Spliced take 1,3 King of the Whole Wide World (remake) - Spliced take 2,3 Cross My Heart Hope to Die - Spliced take 9,11 Smorgasbord - Spliced take 4,2 What's She Really Like - Spliced 16,11 Ito Eats - Spliced take 2,4,5 Girl Happy - Alternate Master * A Cane and A High Starched Collar - Alternate Master * Stay Away, Joe - Spliced take 15,16,13 Island of Love - Spliced take 4,4,8 Stop Look and Listen - Spliced take 5,6 Take Me To the Fair - Spliced take 5,7 Where Do You Come From - Spliced take 13,14 * Let Yourself Go - Spliced take 5,6 * Almost in Love - Spliced take 1,6